Fears rise over the mental health of tower block residents trapped in 'hard lockdown'
Police are now patrolling the estates which have been described as little different from 'vertical cruise ships' when it comes to COVID-19
3 minutes to read
6th July 2020
Concerns are growing over the welfare of 3000 tower block residents ordered into 'hard lockdown' as public health officials tackle the Melbourne coronavirus spike.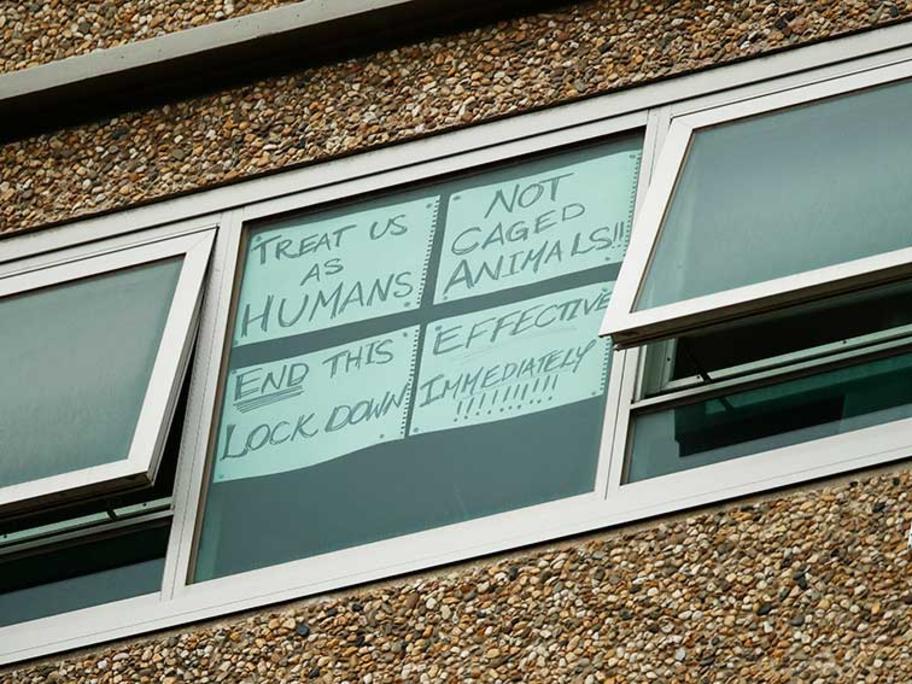 Residents hang signs while under lockdown at a public housing tower in Flemington, Melbourne on Sunday.
Victorian Premier Daniel Andrews announced the decision on Saturday, declaring there was no reason for residents in any of the nine inner-city high-rise towers to leave for the next five days at least.
The towers, home to some of the most deprived populations in the city, are now being patrolled by 500 police officers while health officials conduct a testing blitz.
Emergency medical centres and on-site pharmacies staffed by GPs and other health workers are also being set up nearby to provide care, including alcohol and drug support.
"The close confines and the shared community spaces within these large apartment blocks mean this virus can spread like wildfire," Mr Andrews told reporters.
"And just like fire, we need to put a perimeter around it to stop it spreading."
---
Read more: Coronavirus: GP antidepressant scripts rise by 20% 
---
The move is supported by the acting Commonwealth Chief Medical Officer Professor Paul Kelly, who likened the towers to "vertical cruise ships".
But residents at the tower block in the inner suburb of Flemington have erected protest banners in their windows likening their treatment to "caged animals" and asking to be immediately released.
Other residents are stressing the towers are home to recent migrants from African and Middle Eastern countries and are demanding to know if there is a racial element behind the decision to impose the hard lockdowns.
"[The lockdown is] absolutely discriminatory. We feel like we've been isolated and picked on," one resident in a tower in North Melbourne told The Age.
Another said: "Honestly, it is really tough, I feel like a prisoner in my own home.
"I never thought I'd be trapped like this. I used to hear about Christmas Island. I never thought I'd be a part of detention like this."
---
Read more: Quarantine packs a punch psychologically: review
---
The Royal Australian and New Zealand College of Psychiatrists is warning the lockdown may trigger PTSD in some residents — although it has said the lockdown measures were necessary to control the spread of the virus.
Residents would likely already be stressed due to "the existential threat and anxiety of living within a 'hotspot', possibly already infected by the coronavirus", said the college's Victorian faculty chair Dr Kerryn Rubin.
"This will be compounded by the impacts of social isolation and the loss of usual social supports both informal and formal.
"In this context we have great concern for all of the residents of the hard lockdown buildings, who now find themselves without the freedom of movement, and stuck living in close quarters with numerous other people."
It comes as the NSW and Victorian governments announced the border between the two states would be closed for non-essential travel from Tuesday night.
Some 127 new cases were recorded in Victoria on Sunday, a record daily increase for the state.
NSW reported 14 new cases, all of which were returned overseas travellers in hotel quarantine, as were the six reported in Western Australia.
No other state or territory reported any cases on Sunday.
---
We have compiled a list of resources to help GPs combat coronavirus, which can be read here. Or click here to read the rest of our coronavirus coverage.